Aslı Öcal
She has a degree at the Department of Sociology of 'Galatasaray University in Istanbul, Turkey. She was active part in the struggles of the Confederation of Farmers Union in Turkey (Çiftçi-Sen), a member of the European Coordination Via Campesina (ECVC). He holds a PhD carried out under joint supervision between the Universidad Autónoma de Madrid and the Ecole des Hautes Etudes en Sciences Sociales (2015) with a thesis entitled "Collective action and reconstruction processes in agriculture: an analysis of new associative experiences in Turkey. " Since August 2015 he works for the Operative Secretariat of La Via Campesina in Rome.
Christian Carmosino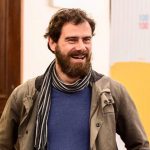 Born in Ventimiglia in 1972. He graduated with honors in Literature at the University Roma Tre with a thesis on short film.
Director and producer, has made documentaries and short films that have won many national and international awards. From about 20 years it organizes film events in Italy and abroad.
Has worked at the Experimental Center of Cinematography – National Film Archive and as a recruiter for several festivals.
Since 2005 is the technical manager of the Audiovisual Centre of the University Roma Tre. He founded in 2005 Officine, film club and cultural association, with which in 2010 he created [CINEMA.DOC], the first circuit for the dissemination of documentaries in première cinemas.
From 2011 to 2015 he was coordinator of the Doc/it Professional Award and from 2012 to 2015 he was artistic director of "Il Mese del Documentario".
In 2015 he was a finalist at the Franco Solinas Prize with "Emma and Mary". He 'been a member of the Steering comitee of Doc / it from 2011 to 2015.
From 2016 he is the coordinator of the Master's Degree in "Cinema of Reality" at the Roma Tre University.
Maurizio Paffetti
Born in 1953, it is an official of the Public Administration for EU policies and programs. Master's degree in Political Science and International Relations, worked for 20 years in development cooperation, dealing with social communication in Latin America and Africa on behalf of Centro Internazionale Crocevia. He is the founder of Crocevia's Media library on Development (a multimedia center for information and research on development and agro-biodiversity) and of the record label "South North Records".
Producer of numerous television documentaries for RAI programs such as Mixer, Geo & Geo, the slopes of Kilimanjaro and for RAI channels Rai Educational and Rai Storia Dixit Scienza. Member of the organizing committee of the Green Drop Award Venice Film Festival which rewards the film, among those competing in the official selection of the International Exhibition of Venice Film Festival, which "has better interpreted the values of ecology and sustainable development, with particular attention the preservation of the planet and its ecosystems for future generations, lifestyles and cooperation between peoples".
Stefano Mutolo
Stefano Mutolo is Acquisitions and Sales Manager at Berta Film. Berta Film is a distribution company based in Florence that provides consulting and distribution to national and international film-makers. As international distributor Berta Film select quality movies and is careful to spread these audiovisual products to a wider audience as possible.
Films proposed by Berta Film have been selected by international festivals such as Vision Du Réel, Festival del Film di Locarno, Mostra Internazionale del Cinema di Venezia, Torino Film Festival, São Paulo International Film Festival, Viennale, Clermont-Ferrand, IndieLisboa and Festival dei Popoli.